The Surf Film Contest (feature films)
Amstel Surfilmfestibal is the platform where we showcase the best surf films in the world.
The Surf Film Contest is the contest in which our international jury decides the best feature and short surf films ( +5 min. and – 20 min.) of the season.
In 2011 we create a new short surf film category with works between 5 min. and 20 min.
The selected works are projected during our festival in Donostia / San Sebastian / Basque Country / Spain which takes place between the 3rd and 12th june 2011.
Deadlines to submit your works end April 15th. Please submit your work + suscription sheet sending it to: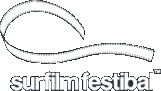 AMSTEL Surfilmfestibal
Donostia Kultura
C/ Reina Regente, 8.
20003 Donostia-San Sebastián
SPAIN
Ph.: +34 943 481 157

The Short Film Contest
The Surf Film Contest ONLINE (max. 5min) is our ONLINE Surf Film Contest.
All the short films (max. 5 min.) are presented on our online platform Dailymotion.com.
The submission period is between June 1st and September 30st 2011!!!